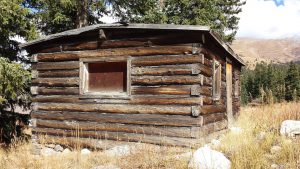 A poustinia is a small cabin with little furniture, mainly a bed, a table and and chair. Preferably the east wall has a cross and a small devotional table covered with a clean white linen. Upon the table is a copy of the Scriptures and a candle. A kneeler can be used in front of the devotional table. If at all possible, the cross should be on the wall above the table. A comfortable chair can also be found in some monastics' poustinia.
The poustinia's primary purpose is for meditation and fasting. For a hermit, the two main days each week for fasting is Wednesday and Friday, however, a monastic may wish to live permanently in the poustinia even on days when not fasting. If one is living permanently in the poustinia, it would be necessary to have a wooden box to hold his or her attire or towels and other necessities.
The idea the hermit should have on his or her mind is solitude in the presence of God and of Jesus Christ. Think of going out into the desert to be alone with God, but for the service of others. The hermit does this by intercessory prayer and fasting.
"The poustinia should be a place where the hermit's heart rests because he or she knows that the presence of God and of Christ are there. The hermit should make intercession for his own soul, for that of his fellow brethren, and for the world's salvation."
Quote from the Catholicos Patriarch
Poustinia is "an entry into the desert, a lonely place, a silent place, where one can lift the two arms of prayer and penance to God in atonement, intercession, reparation for one's sins and those of one's brothers…. To go into the poustinia means to listen to God. It means entering into kenosis — the emptying of oneself."
Quote from Catherine Doherty